Archive for
March 22, 2008
Former NBA Allan Houston Talks to New Man About His Faith, Ministry and Shooting the Perfect Jump Shot
New Man: Thanks for doing this interview. I've long been an admirer of your silky smooth shot and I miss it on the court.
Allan Houston: (Laughs) Yeah, me too!
New Man: Let's start by talking about your basketball camp, Father Knows Best. What inspired you to start the camp?
Houston: It was really a vision I had about seven years ago. It took me a couple of years to follow through with it. I shared the vision with my dad. He's a very dynamic man, a hero to me. He led by example as a dad and I still admire him on so many different levels. He coached me in college and he coached a lot of other guys who went on to play in the NBA. I started thinking that our experience had been unique. Then I started to understand from a spiritual level, that my connection with God as a spiritual Father made me appreciate my biological father's example even more. He showed them to me. So I felt like we had to share this and encourage other fathers and sons—and give those kids who don't have fathers, these skills. So we decided to bring it together through a basketball retreat. We didn't want to call it a camp because it was hopefully more than just a camp. It's an empowering and enriching weekend. You establish a deeper connection and sons are learning how to grow as young men, and fathers are growing as men who used to be in their sons position, and you're doing it all through basketball. We do drills, shooting demonstrations, along with workshops on communication. We also deal with women and understanding a man's role in that relationship. But we just make it really fun. The kids play against each other and have a lot of fun. (more…)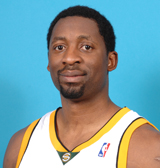 I'll be honest. I was really blessed in my childhood. I had two wonderful parents who were the biggest living testimony of God's love. I watched my dad, a pastor, labor and pray for God to pay the bills, provide us with food and put us through school.
At a young age, I realized just how alive God truly is and how He works through our circumstances. I could see through my parents' lives that I needed to follow their example and enter into a personal relationship with Christ. But it wasn't until after I graduated college that I truly was able to rely on Christ 100 percent.
As a three-year starter at Seton Hall University, I, like so many other college standouts, wanted to continue my basketball career. But to my disappointment, I wasn't drafted into the NBA. There I was, a 22-year-old college graduate who was, by that time, a husband and a father; and I was without a job. (more…)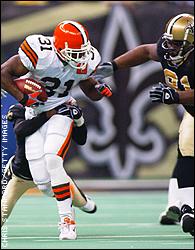 Even when you don't make the connection with William Green these days, you get the message.
"All things work for the good of those who love the Lord and are called according to his purpose," the recorded voice of William's wife, Asia, says on the couple's answering service.
The 2002 first-round pick (No. 16 overall) has spent the past two seasons finding his way with God. Now, the question is whether Green will find his way back to the NFL. After two seasons out of the game, Green will be working out Tuesday at Boston College, his alma mater, in hopes of catching the eye of NFL scouts, coaches and executives.
There figures to be a good crowd in attendance at the Chestnut Hill campus. Matt Ryan, the top-rated quarterback in this year's draft, is scheduled to work out along with the other draft-eligible players from BC. Ryan could go as high as No. 1 overall to Miami … or to another team if the Dolphins decide to trade out of the top slot. (more…)