Posts filed under 'NCAA BB'
Last fall, Drake, a private university in Des Moines, Iowa, entered the season as a team loaded with talented veterans. The Bulldogs were picked to win the MVC largely because they had a preseason All-Conference star, Jill Martin, and four starters returning from a team that finished second in the conference the year before and also boasted a respected recruiting class.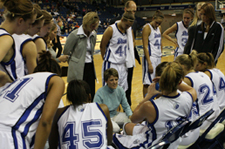 Then adversity struck. And it struck again and again and again.
Following a season full of injuries and illnesses, the Bulldogs limped into the Valley tournament, which they were hosting, with a 10-18 record. On paper, the situation looked dismal.
But in the hearts of the players and coaches, the situation was anything but a lost cause. Their hope was no longer in their own strength and numbers; that had been depleted. Their hope, now, was in the Lord.
"At the beginning of the year I came across a passage in Deuteronomy 8 about the way God uses blessing and adversity in our lives," Junior Lindsay Whorton said. "I was convinced God was going to do something exciting either on the basketball court or off, and I was looking for it. The passage talked about how to use that adversity to remember the Lord and give glory to Him and be obedient to Him." (more…)